Dune HD introduces the new service "My Collection" for DUNE HD SOLO 4K

Back
DUNE HD released the new firmware for DUNE HD SOLO 4K which includes the new service "My Collection".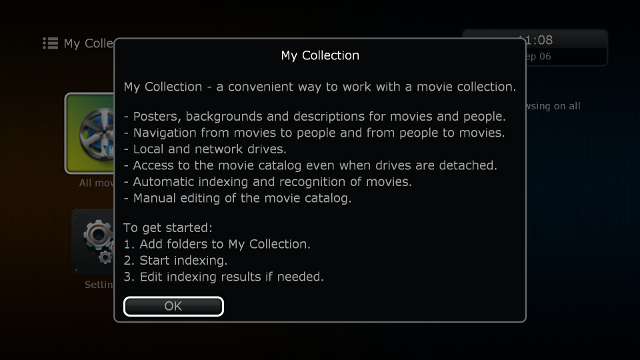 This new convenient service was developed by DUNE HD especially for movie enthusiasts providing the easy way to organize collections of movies and TV series. With this new tool you can easily organize your home movie library into a nice looking catalog with posters and backgrounds, quickly refresh your memories about the movies watched, and learn everything about movies and cast just with couple of clicks!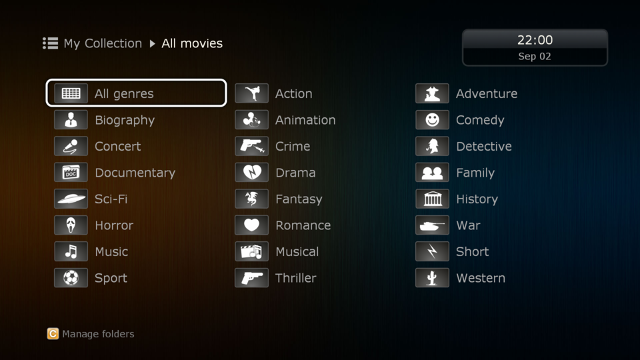 The new functionality provides the following features:
Posters, backgrounds and descriptions for movies and actors.
You can navigate through all your movies using a convenient and nice Graphical User Interface including movie posters and descriptions (available in different languages), fan art background images, cast and crew information including photos, biography and filmography.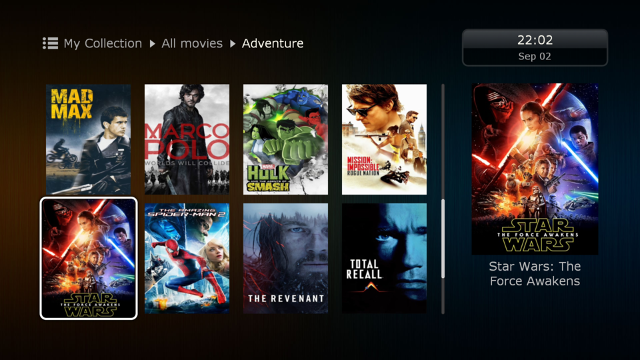 Cast and crew explorer
For each movie, you can view the list of actors and crew. For each person, you can view the list of her/his movies (even including movies which are not in your collection), navigate into these movies, view the people of these movies, and so on. Using this cast and crew explorer, you can easily discover movies you would like to watch.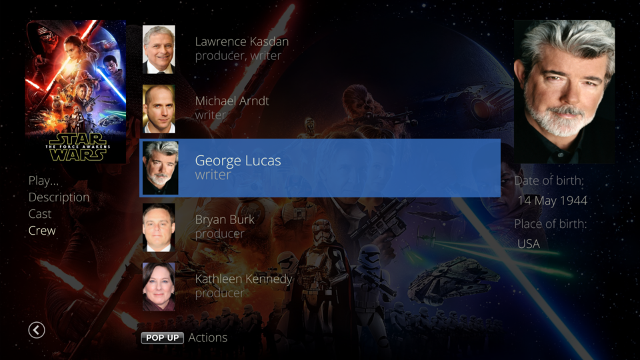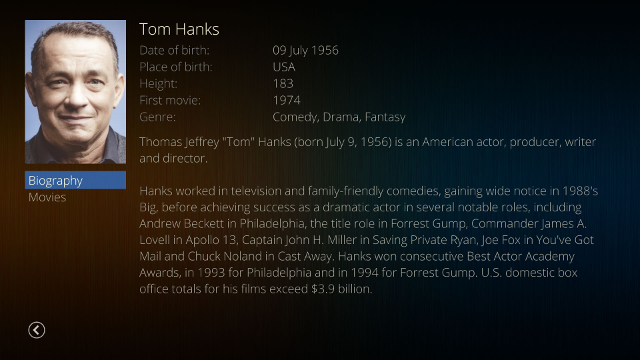 Local and network drives
You can add to your collection any number of folders with movies, which can reside on either local drives or network drives.
Access to the movie catalog even when drives are detached
All data about your collection is stored not in the source but in the system itself, so you can work with your collection and browse through all movies, including those located on detached drives even when your folder with video files is not currently accessible by the player.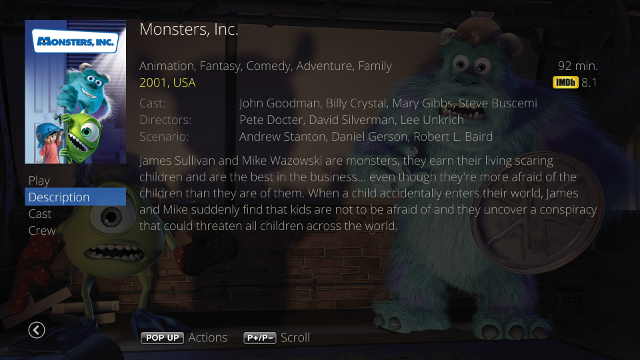 Automatic indexing and recognition of movies
When you start indexing of a folder with movies, the player searches automatically for all video files inside this folder and recognizes automatically all video files found. Video files of all types are supported (including regular video files, DVD ISO images, VIDEO_TS folders, BD ISO images, BMDV folders).
Manual editing of the movie catalogue
After the automatic indexing is done, you can manually review the indexing results and revise the matches. You can review everything immediately after indexing or do it later, when watching the movie.
Smooth Graphical User Interface with nice animation effects
The GUI is responsive and smooth and has nice animation effects. The GUI is rendered with the maximum possible quality using the full resolution of the player menu (Full HD).
Easy to use!
The application is available via "My Collection" item at the top level of the main menu of the player.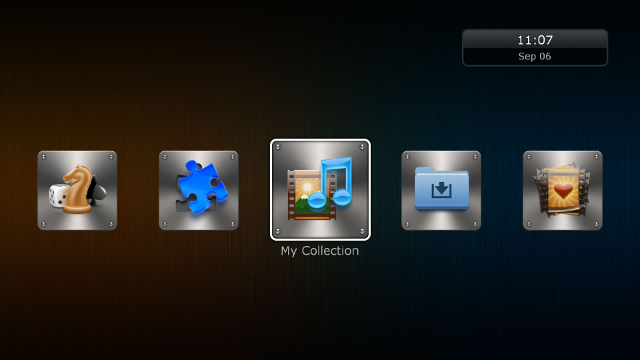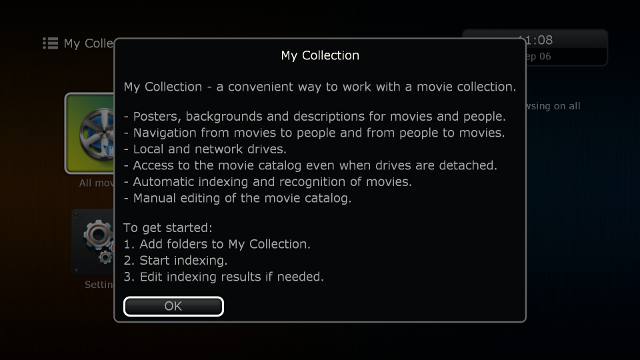 To start using it you have to perform the following steps:
Add some folder to My Collection
You can do it in several ways: use "My Collection / Settings / Manage folders / Add folder..." function, or choose a drive or folder and press "POP UP MENU" RC button and then choose "Add to My Collection" action, or just attach a drive with the movies to the player and choose "Add to My Collection" action in the appeared dialog.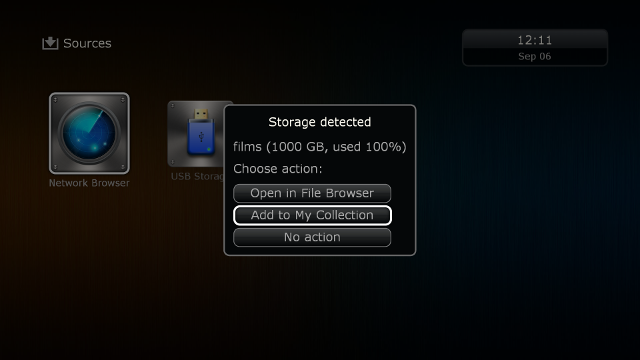 Index the folder added to My Collection
Press "Start indexing" button in the My Collection folder settings screen ("My Collection / Settings / Manage folders / Your Folder Name"). The player will scan the folder and create the index for this folder in background. You will be able to see and monitor the indexing progress.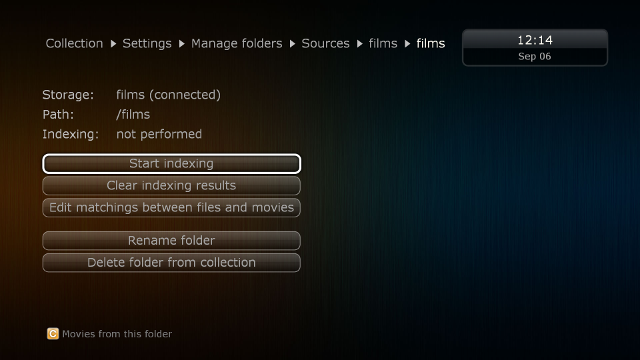 Revise the matches between files and movies
This is not mandatory, but after you indexed a folder, it is usually recommended to review all the files which were added to the index, and matches between these files and movies. Some matches may be wrong and you could need to manually correct them. To do it, in the My Collection folder settings screen, press "Edit matchings between files and movies" button. Then choose for example "Files without confirmed associations" filter and review the movie associated with each of these files. If the associated movie is correct, confirm it by pressing for examle "B" RC button ("This movie" action); if it is wrong, choose the correct movie and confirm it.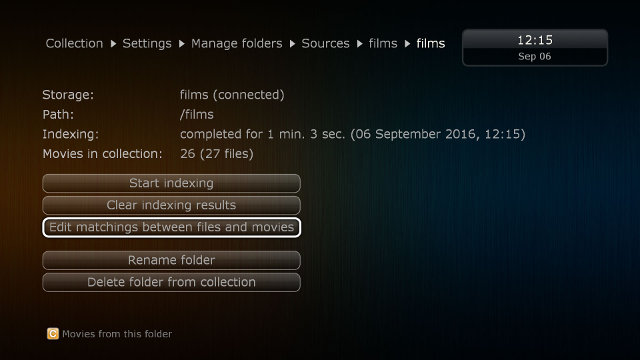 Everything is done.
We wish you a pleasant watching!
DUNE HD TEAM