Industry Leader Dune HD Receives Top Honors from ConnectedWorld.TV

Back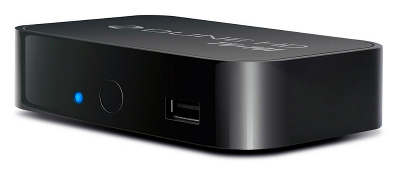 Industry Leader Dune HD Receives Top Honors from ConnectedWorld.TV with Sigma-based System


Sigma Designs, the leader in connected media platforms, today announced that the Company's SMP8670 provided a competitive advantage for one of its key partners by helping Dune HD win the coveted Connected TV of the Year award from ConnectedWorld.TV. The winning product was the Dune HD TV-101 from Dune HD, the European Union and CIS leader in media players. The award was presented at the ConnectedWorld.TV Awards in Amsterdam, the Netherlands.

"From an illustrious list of well-known brands, the readers of ConnectedWorld.TV selected the Dune HD TV-101 as the Connected TV of the Year," said Neil Nixon, managing editor of ConnectedWorld.TV, the industry's leading portal for the multi-screen video environment.

Dune HD TV-101 is a compact, hybrid universal media player and set-top box that allows playback of standard and high definition video (up to full HD 1080p) and supports digital TV program reception. The TV-101 has an ultra-compact size, elegant modern design and modest price. The product can receive content from a PC, NAS or directly attached storage (HDD, USB Flash drives or card readers) and from the Internet. The device also can upscale DVD or SD video content to full HD (1080p) or other HD resolution. The TV-101 supports digital TV via a USB dongle.

"The SMP8670 is a perfect chip for delivering advanced media players and set-top boxes at an affordable price," said Dr. Konstantin Dyshlevoy, Chairman and CEO of Dune HD. "Now, every possible video, music or photo file can be played – delivering a real entertainment center in the home."

The SMP8670 is the latest media processor platform from Sigma Designs. The new chip runs at 700 Mhz and delivers a 40% increase in performance while reducing power requirements 30% from previous generations.

"The SMP8670 platform was the critical differentiator for this product," said David Lynch, Vice President and General Manager of the Media Processor Business Unit at Sigma Designs. "The way that this product continues to perform underscores the quality, importance and relevance of cutting-edge digital media functionality for today's advanced media environments."

More Information ...