Dune HD Pro: Ultimate Modular HD Entertainment Station

Back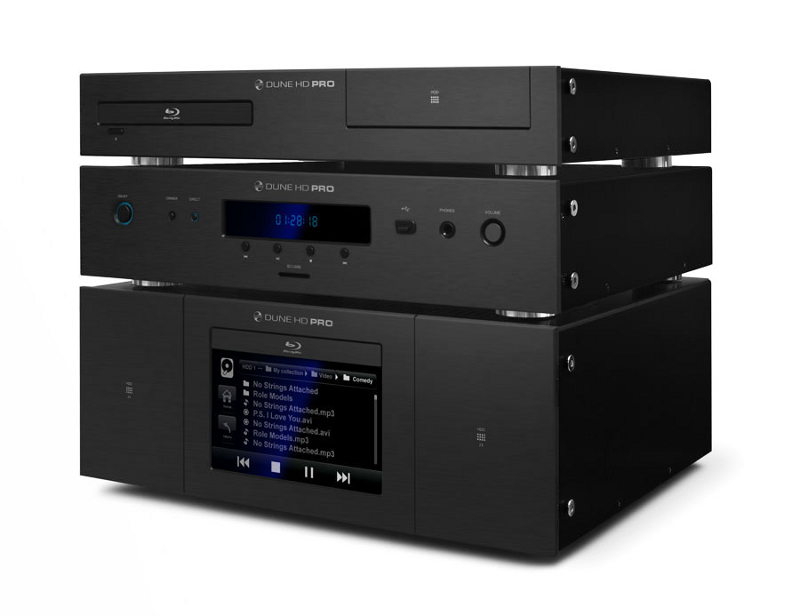 Dune HD GmbH, one of the world's leaders in design and manufacturing of HD-media players as well as devices for IPTV and OTT Operators, introduced a new family of innovative modules for audio and video playback named Dune HD Pro. The devices were first shown at the International CES exhibition in Las Vegas, January 2012. The component based modular entertainment center named Dune HD Pro is positioned to revolutionize the market of high-quality reference standard equipment in the same way Dune HD media players changed user perception of what a modern digital multimedia player should be.

Dune HD Pro is an ultramodern component style system that combines the qualities and features required by audio and videophiles for playback of various audio and video content, including convenient storage and library cataloging.

The Dune HD Pro Master module is an uncompromising network multimedia player designed using the highest quality components. It combines functionality of a reference media player with the option of integrating DVB-T/T2/C/S/S2 tuners. Thanks to the presence of a toroidal power supply and stereophonic audio path utilizing top quality Burr-Brown DACs, and balanced audio outputs, the Dune HD Pro Master module raises the bar on top flight audio performance. The Main module comes equipped with a separate Digital A/V output-terminal for digital sound output, which makes it an ideal universal AV-source for reference Hi-end and Hi-Fi systems. Additional support for THX Media Directory technology and premium streaming services such as VUDU is also included.

Functional possibilities of the multimedia player can be expanded by HDD/BD-module named Dune HD Pro Extender which will allow the device to playback video and audio from optical media such as CD, DVD or Blu-ray. Users can easily install 3.5" hard drives of any capacity thanks to the presence of HDD rack with hot swap function. Switching from Extender and Master modules is carried out by two eSATA cables.

The third component of the system called the Dune HD Pro Gateway provides convenient access to additional media content from both local network and the Internet, and also considerably expands the possibilities of media data management. The Gateway module adds to a system the possibility of broadcasting premium streaming entertainment services to any Dune HD media player residing on the local network with the Dune HD Pro Gateway.

A seven-inch LCD touch-screen display allows easy operation of a user's media library, search and discovery, as well as playback of audio and video content through the Master module. Which makes it possible to operate music and radio playback without switching on a TV-set. At the same time the LCD display serves as a screen for meta-information displayed for any files supported by the Master module.

Also there is a possibility for Dune HD Pro user to install up to four HDDs for fast access to media content or for organizing RAID-array 0, 1 or 5 storage configurations. Additional data sources may be directly connected to the Gateway module by eSATA and USB 3.0 sockets providing very high data transmission speeds.

Built-in Blu-ray drive allows the device to legally copy, and play back, optical disks, to the media server library using forthcoming technologies Dune HD will be supporting.

Ethernet wired interface between the server and the main module operates at gigabit speeds and the server includes a built-in 2-port network switch that allows connection of the whole system to one Ethernet-socket. All Dune HD Pro modules are rack-mountable.