DUNE HD AND MWARE DELIVER END-TO-END IPTV SOLUTION

Back

IBC Amsterdam
7-11 September 2012
Hall 14, Stand 14.104
DUNE HD AND MWARE DELIVER END-TO-END IPTV SOLUTION
FOR CONTENT PROVIDERS
New partnership provides flexible, scalable one stop shop to deliver multiscreen content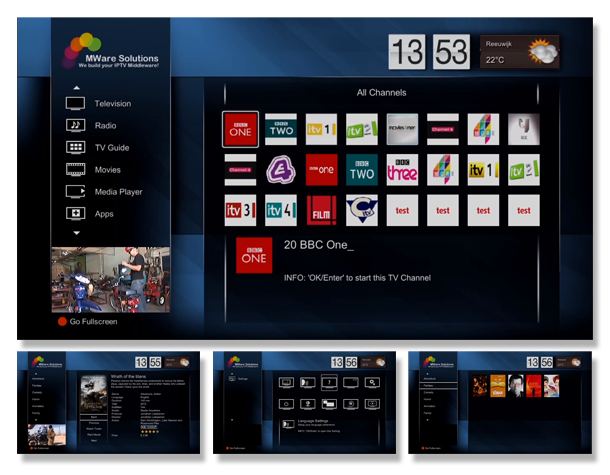 IBC, Amsterdam and Berlin, 10 September 2012: A new partnership announced today between Dune HD (http://dune-hd.com/) and MWare (http://www.iptvmiddleware.com/)will make it easier for content providers and operators to deliver IPTV programming to subscribers and monetise their assets. Through a combination of Dune HD's award winning set top box hardware and MWare's end-to-end IPTV platform, content providers will benefit from a simple, flexible and scalable solution that makes it easy to provide multiscreen content to their subscribers.
The combined solution will be demonstrated on Dune HD's stand at IBC (Hall 14, Stand 14.104) between 7-11 September 2012. It is soon to be deployed by multiple content aggregators, providing a robust and feature-rich Over The Top (OTT) implementation that covers both live and catch-up programming. MWare chose to work with Dune HD due to the strengths of its technology, proven innovation (including support for HTML5) and European base, resulting in a close working relationship that speeds up new developments.
The partnership with MWare is an integral part of Dune HD's new global strategy to provide its proven product range to operators and content providers. Building on its world-leading position in home media players and set-top boxes, Dune HD's innovation is now available through a growing partner network, direct to operators and via Dune HD's existing retail channel which spans 60 countries. This allows content providers to seamlessly deliver programming to consumers, increasing revenues through the feature-rich, powerful Dune HD range.
Dune HD has an established global user base of its award-winning products, meaning that operators benefit from a proven, available solution with an innovative range of features, customisable interface and a small form factor. The extensive Dune HD range includes entry-level IPTV players and middle/high level models with support for Blu-ray and Digital TV (Satellite/Cable/TV). This allows operators and content providers to choose the best solution for their particular needs, backed by the company's dedicated engineering team.
MWare Solutions provides a full, end-to-end IPTV solution based on a modular design and strong partnership approach. Its platform spans encoding, distribution, middleware, user interface and set top boxes, combined with custom development and ongoing support that removes complexity from the content delivery process. Through its partnerships with best of breed providers such as Dune HD, coupled with its extensive experience, MWare is able to implement solutions quickly (typically in 4-6 weeks), delivering faster ongoing revenues for content providers.
"With more and more consumers using IPTV content providers have the perfect opportunity to reach a growing audience, monetise their programming and build successful businesses," said Konstantin Dyshlevoy, CEO, Dune HD. "However to achieve this they need to work with providers that deliver an end-to-end solution that is tailored to their requirements – our partnership with MWare makes content delivery seamless – from studio to living room, whatever device they want to watch on."
"Providers just want to get content out to their customers, without having to worry about technical complexity," said Sander Kerstens, CEO, MWare. "Our approach makes content delivery simple by partnering with leading vendors such as Dune HD and wrapping their technology into a single, flexible solution designed to fit the content provider's individual needs. Dune HD's track record of innovation and strong engineering team make them the perfect partner for both ourselves and our customers."
About Dune HD
Dune HD is recognised as a global leader in universal digital media players. Over the last five years Dune HD has received more awards than any other company in the category for delivering the very best in universal digital media players. Dune HD products support the widest number of digital formats in use today, from Internet-based digital streaming and download, to disc based formats such as Blu-ray and DVD. The Dune HD line of media players offers superior quality HD video and audio with support for IPTV, VOD, OTT, networked digital files and interactive services. Dune HD has sold over half a million products to consumers in more than 60 countries. More information on Dune HD is online at www.dune-hd.com.
Building on this success, Dune HD is now targeting IPTV/VoD operators and systems integrators with its unique combination of a home media player combined with an IPTV HD set-top box in a single unit. This allows operators to offer their customers the exact content, services and performance that will set them apart. For more information about Dune HD, please visit http://dune-hd.com/eng/tv_vod_solutions/vision
About MWare
MWare Solutions (http://www.iptvmiddleware.com/) offers true turn key "End to End" IPTV Middleware solution based on a modular design. This means you can choose the building blocks to create and/or complement your IPTV Solution. We also can offer custom development on all of our solutions. Our combined experience enables us to deliver a complete or state of the art solution that meets our customer's needs and quite often, surpassing their expectations.
MWare's mission statement is: To solve unsolved solutions innovatively and to make the world's content universally accessible and useful with a view to Educate, Inform, Entertain, Connect and Empower citizens globally – ultimately improving quality of life. The company's financial focus is to maximize earnings and cash flow and to allocate capital profitability towards intelligent growth initiatives that will deliver long-term shareholder value.
PR contact for Dune HD:
Chris Measures
Measures Consulting
+44 7976 535147
chris@measuresconsulting.com
PR Contact for Mware Solutions ltd.
Sander Kerstens
Mware Solutions ltd
+31 6 19181887
info@iptvmiddleware.com