Dune HD Introduces First TV Connector for Streaming

Back
Dune HD Connect Unleashes Content from iPhone, iPad and Android Devices to any HDTV Wirelessly
With hundreds and sometimes thousands of photos, music and videos stored on smartphones and tablets, viewing, syncing and sharing content outside the device is often a complex process. Dune HD introduces new features with its Dune HD Connect mobile device companion player that frees content from the confines of mobile devices to enjoy on HDTVs. The Dune HD Connect family of devices will be available in early 2013 and will be shown in the Dune HD booth at 2013 International CES this week.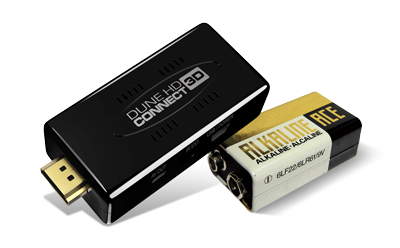 Streaming media such as photos, music and video from the smartphone to the TV currently requires a media streamer or other proprietary box in the living room, which work only with select (and often proprietary) devices. To solve this problem, the Dune HD Connect is not much larger than a small battery, slots into the TV's Digital A/V output port and connects wirelessly to iOS and Android devices without adding clutter to the living room.
Dune HD Connect advantages:
Ability to stream content from iPhone, iPad and Android phones and tablets to any HDTV—wirelessly.
Simply plug the Dune HD Connect into the TV's Digital A/V output port and launch the Dune HD Connect app on the mobile device to enjoy content on the big screen.
So small and portable, users can unplug the Dune HD Connect, toss it into their pocket and take it with them to connect to any HDTV wherever they go.
Internal Wi-Fi access point means no Internet or LAN connection is required. The Dune HD Connect contains all wireless technology needed to work with mobile devices.
Supports both HD and 3D TVs with Digital A/V output 1.4 port, with two different models available.
Future options will include ATSC, DVB-T/T2/C and ISDB-T digital TV tuner.
2013 International CES
Dune HD will demonstrate the Dune HD Connect as well as its full suite of media players and connected boxes at CES January 8-11. Visit Dune HD in the South Hall 1, Booth 21642, or email samantha@conceptagency.com to schedule a meeting with executives at the show.

About Dune HD
Dune HD is a global leader in full HD media players and connected boxes for consumers and operators. Over the past five years Dune HD has received more awards than any other company in the category for delivering the very best in universal media players. Dune HD products support the widest number of digital formats in use today, from Internet-based digital streaming and download, to disc-based formats such as 3D, Blu-ray and DVD, and support for IPTV, VOD, OTT, networked digital files and interactive services. Designed by world-class engineers from Russia and Ukraine, Dune HD media players are enjoyed by more than half a million consumers in more than 60 countries.

Media Contact:
Samantha Steinwinder
The Concept Agency
206.760.9809
Samantha@conceptagency.com