White Paper
Defining the Next Generation CPE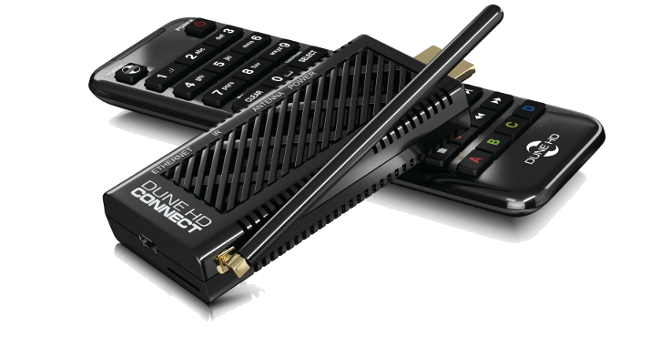 Introduction
Now that IP-delivered and IP-hybrid broadband video services are mainstream, service providers are faced with a challenge. They want to provide high-quality video to as many screens and devices as possible while maintaining full control over the consumer's entertainment experience. At the same time, they want to minimize the range of consumer devices requiring support in the field, and do all of this at a low cost. Historically, no single mass-market video consumer device has yet had the flexibility to meet all of these needs.
This paper is designed to highlight the challenges involved, make recommendations to operators evaluating video customer premises equipment (CPE), and to invite operators to consider the value propsition offered by Dune HD.
Four video service delivery models
Service providers can select from four alternative service models to provide video services to consumers:
Managed TV over managed access, in which the operator can control both the user interface (UI) and user experience (UX), using middleware and entertainment-grade security, and the operator controls broadband access;

Managed TV over unmanaged access, in which the operator controls and secures the UI/UX, but delivery is via the open Internet;

Unmanaged TV over managed access, where content is direct to consumer without operator involvement, using the content- or device-provider's UI/UX, but the operator owns and manages the broadband access. Some operators promote this model as a way to maintain subscriber loyalty to their broadband access offerings; and finally,

Unmanaged TV over unmanaged access, in which the operator has no control: Content is OTT, using the content or device provider's UI/UX, and delivery is via the open Internet.
Once the service is inside the consumer's home, it must then be brought to the consumer's TV screen, either over in-home wiring, such as Ethernet, or wirelessly using WiFi (802.11). Depending on the age of the TV set, the video connector could be composite, component, Digital A/V output (the standard high-definition connector) or MHL (a newer mobile audio/video interface).
Service provider requirements
Operator requirements begin with the consumer, and increasingly consumers are demanding an entertainment solution which includes online video content combined with free to air broadcast or pay TV services.
As result of this consumer interest, operators want to differentiate themselves by being the first to deliver a compelling mix of live TV and OTT programming; providing value to the consumer at an affordable cost. The live TV component can be free-to-air broadcast, pay TV over managed access or a combination of both. Ideally, operators would like to be in the position to choose any or all of the four of the service models identified above. In fact, this is a must—or else the operator risks losing relevance.
To enable operators to bring the full range of experiences shown, they need more flexibility and security than a basic streaming video CPE device can provide. In other words, there's need for a new generation of "thin STB" solution.
Figure 1: Consumers want a blend of live and on-demand video with managed and unmanaged content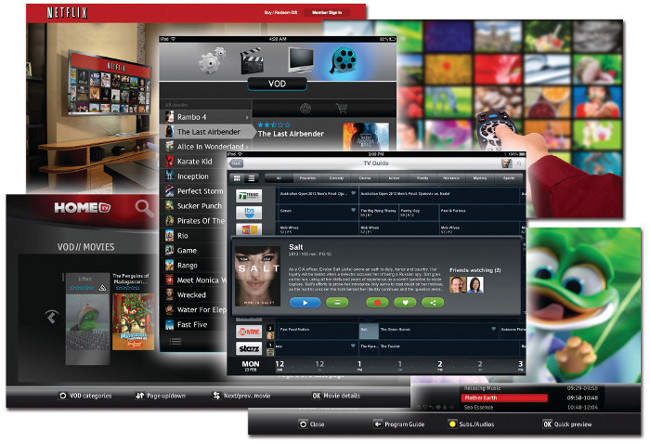 Key operator uncertainties
Once operators discover the details behind providing a video service, they begin to raise important concerns, beginning with whether or not a low-cost solution can enable a viable business, given the operator's business and revenue objectives. While pure OTT delivery is inexpensive in terms of delivery infrastructure, CPE cost, and the content itself, the corresponding ARPU and return on investment are also low. On the other hand, pay TV is expensive to implement and CPE traditionally represents the highest percentage of the cost.
Another concern is whether or not mass-market streaming video players sold at retail can really meet today's complex matrix of security, technology and usability requirements. While the cost associated with mass-market video CPE devices is usually assumed by the consumer so operators do not have to subsidize them, these devices may not be sufficiently flexible to provide a consistent and compelling user experience, nor can they provide the security support premium content distribution requires.
Browser-based UIs — even those using HTML5 and Webkit rendering engines — have limited flexibility when compared with TV middleware-based alternatives used in managed services. Although HTML5 is touted as a universal standard, different CE devices can implement a wide range of HTML5 browsers, each in turn which implements the standard differently. This means that there is no guarantee the UI/UX will be exactly the same on every HTML5-compliant device, which the operator needs in order to deliver a consistent experience across its supported device ecosystem.
The operator's ability to control the content lineup that it delivers to its consumers is another key uncertainty. Operators using mass-market retail CPE solutions may be subject to accepting a content lineup (apps) or a user experience that the operator has no influence or control over.
Some service providers operate in markets where it is most effective to serve multiple territories by using a mix of pay TV, broadband-only video and/or IP-hybrid services that combine IP video delivery with broadcast TV delivered over digital terrestrial, satellite or cable access. In this situation, the search for the right CPE devices can become complicated.
CPE requirements for operator success
When evaluating video CPE solutions, operators must keep a number of factors in mind before finalizing their selection. Let's look at a few of these factors up close.
The nature of TV is changing rapidly
Not only has the Internet become a necessary vehicle for delivery, but at the same time Internet- delivered content has become an integral component within the TV experience. Operators need to accommodate the consumer's desire to access familiar online video and social media properties alongside the TV experience.
In addition, consumers increasingly wish to take their TV experience with them. One example is the traveler in a hotel room. The hotel property is highly unlikely to be provisioned with the same TV service or programming that the traveler experiences at home. But what if the traveler simply carried his or her "thin STB" with them? Because the device can be authenticated as being owned by a particular user, this next-generation CPE device can enable a near duplicate of the experience the user enjoys at home—assuming the content provider allows distribution to the location where the user happens to be. This has long been an intriguing concept for operators, but due to past CPE limitations and their larger physical size, this concept has not been practical until now.
Consumers use second-screen devices running apps to control the TV experience. All the major pay TV operators have begun to offer them, as do some retail CPE device suppliers. Although Apple's iOS devices get a lot of attention, Android has gained greater market share. The chosen device supplier should offer a remote control reference application on both device platforms, with a robust IP control API that any third party can utilize and easily build upon.
Operators are also keen to provide branded apps in support of operator-specific content and service features. There are three ways to deploy apps: 1) via an existing marketplace, such as the iTunes or Google Play stores, 2) via an operator's own storefront, or 3) via a CPE supplier's storefront. For operators without the resources to develop their own storefront, the CPE supplier may offer an apps- friendly environment and app deployment framework that can be branded by the operator. In the case where a CPE supplier offers an app store framework, support for developers should include a published API and be complemented by an SDK and a responsive engineering support team.
Operators want the flexibility to innovate Operators should be able to launch creative, differentiated solutions that are not limited by the constraints of the devices they deploy. They want the flexibility to enable both "broadband TV" (OTT model) and managed TV solutions. Some consumers will be happy with Internet video; others will want over-the-air local broadcast or pay TV as well. Most will want a mix of all three.
The nature of managed services is changing. Though legacy cable and satellite infrastructures will remain in place for years to come, the emergence of next-generation technologies that allow for similar capabilities and control/security models opens up this new generation of CPE to augment or even replace legacy STBs. At the same time, traditional middleware vendors are innovating with highly engaging and dynamic user interfaces and experiences which, when combined with approved security measures for OTT, allow the operator to deliver a world-class experience.
When evaluating CPE solutions, operators should ask several other questions. Is a variety of device form factors available? Can the device access services via fixed in-home wiring, but also be movable to different rooms and reachable over wireless (WiFi)? Is a compact add-on device available that can enable existing TV sets to receive their services without a full-sized set-top box? In other words, the CPE device should be able to accommodate flexibility in the operator's service model, the user experience, form factor and in-home connectivity.
Operators want control and entertainment-grade security Operators prefer to assert their own identity and expose their own innovations to their subscribers rather than be subject to the whims of third-party video services and CE ecosystems. Mass-market streaming CPE solutions offer a predefined "walled garden" UI/UX and a marketplace that acts as a gatekeeper for the device provider. This creates dependencies that operators should hope to avoid, such as cases in which the device supplier imposes its own content lineup, its own apps, or makes unannounced changes that affect the consumer's entertainment options.
Operators should never take the risk of building their CPE strategy around a device platform they do not control. For example, one such retail CPE supplier removed some of its partnered programming because of a deal it made with a single individual service provider. Another such supplier took a strategic investment from a major media company, raising questions as to how much influence this media company would have over programming offered on the suppliers platform.
Entertainment-grade video security is a huge concern for the content providers, and operators can't build a compelling service without it. TV programmers and studios distributing over pay TV platforms require CAS and DRM, and those security environments are growing increasingly sophisticated. Mass-market retail streaming video CPE is not designed to support the full range of content protection techniques required by major content suppliers, which can limit the operator's ability to give users access to the most highly desired and valuable content, including early window programming.
Maximizing the useful life-cycle of CPE is a concern to everyone With mass-market retail CPE solutions, incremental security updates are rarely possible once the device has been sold. In the worst case, the device might suddenly become incapable of accommodating any software updates at all. This factor was considered to be responsible for the demise of a much hyped online TV platform despite the massive investment made by its promoter to ensure its success. Consumers were simply confused as to why major content had suddenly become unavailable, while it was made available on other devices that were considered to be inferior. Operators should never underestimate the impact of orphaning older devices. In addition, this situation works to reduce the useful life-cycle of the device, resulting both in higher Capex (e.g. more frequent device replacement costs) and Opex (e.g. the logistics and user support needed to deliver and activate the devices), to the operator.
Time to market and time to change are critical TV and video are a fast-paced and rapidly evolving market space. Operators must place themselves in a position to change their offerings quickly, even if a custom solution and custom engineering are required and third-party middleware, DRM and CAS are necessary. It's critically important for operators to select a CPE vendor partner that has the experience to accommodate the operator's need for rapid change.
Any chosen supplier, whether it's for CPE or some other part of the operator's delivery ecosystem, must have expert professional engineering resources available to assist with customization. Since the CPE device is the most visible part of the experience to the consumer, the supplier's custom application and UI development capabilities should be carefully examined.
No single CPE solution can deliver everything to every operator The decision to deliver to low-cost, high-volume retail streaming devices may result in lower CapEx to the operator, but it ultimately can result in reduced revenue potential because that class of CPE solutions does not support all four of the service alternatives listed earlier. Also, the limited user experience can also lead to lost revenue as users switch to competing video services. There is even a potential for the operator to lose the broadband relationship with those users altogether.
Operators can expand their total available market (TAM) by supporting "smart TVs" and other video- capable consumer electronics devices in addition to deploying via set-top boxes. One non-set-top alternative would be to use a "thin STB" containing the electronics of a set-top box in a compact form factor with sufficient resources to enable a secure pay TV service. But the software environments contained within retail consumer devices tend to be very limited and do not lend themselves well to the kind of flexibility required by operators.
TV hardware interfaces are evolving. As more and more connected CE devices complement existing Digital A/V output connectors with MHL, operators have multiple ways to use existing TVs in support of any of the four service alternatives identified at the beginning of this paper. Operators should be on the lookout for CPE suppliers that support both connector options as MHL becomes mainstream and that have the flexibility to bring a fully managed TV experience to either one in a secure manner.
Hybrid OTT-broadcast solutions are sufficiently mature It can be argued that hybrid-IP delivery has become the overwhelming preference of operators faced with the need to offer both managed (pay TV) and unmanaged (Internet-sourced) content. Most major pay TV providers are already delivering this mix. A hybrid of IP and free over-the-air delivery creates a true cord-cutting experience for those consumers seeking to reduce their entertainment expenditures.
With a hybrid approach and a well-designed UX, the technology is available today to deliver a blended pay/OTT experience that hides the complexity of multiple inputs to the CPE device. Hybrid also gives the operator an alternative to delivering all video content over the costly broadband connection, while reducing network management complexity. Operators should seek a vendor capable of delivering a single CPE solution. In our view, consumers should not be forced to decide which box they need for the specific content desired, but rather should be given a solution that simply works with the full range of services the operator plans to deliver. "Any content to any device, anywhere" is a great catch phrase, but to deliver on this promise requires a new approach to CPE.
Conclusions and recommendations
TV consumer preferences have evolved rapidly, and operators must fulfill these consumer needs or lose relevance. The availability of new delivery techniques and new CPE alternatives should prompt operators to revisit and update their decision-making criteria along the following lines:
Choose a supplier who can provide a full range of device solutions and form factors for any consumer scenario: pay TV, OTT, connected CE, second screen, managed or unmanaged— rather than selecting different suppliers for each type of delivery. This approach can reduce CapEx while streamlining vendor relationship management.
Choose a supplier capable of supporting a wide variety of in-house and third-party application software, middleware and security components, along with the industry-standard technologies required for delivery of premium-licensed content.
Choose a supplier with in-house engineering expertise and experience to customize and integrate the solution that best fits the operator's service and market requirements, while bringing the solution to market rapidly.
Choose a supplier whose products support current and upcoming CE standards (like MHL).
Supplier's products should support current and upcoming browser, audio and video technical standards and technologies, to maximize the usable life-cycle of devices in the field.
Choose a supplier with a flexible go-to-market plan and worldwide distribution. To reduce CapEx, many operators find it best to seek manufacturing partners with existing retail distribution, thus reducing costly CPE inventory requirements for the operator. To make this strategy successful, the supplier must offer a robust update mechanism so CPE can be customized with specific firmware and software required by the operator.
Customer profile: MegaFon
MegaFon, a major Telco in Russia, is using one of Dune HD's most popular OTT STBs to deliver a high-quality in-home experience for their entertainment service. MegaFon selected Dune HD for its extensive in-house engineering support, which allowed Dune HD to deliver a world-class hardware product and integrate leading-edge middleware and software quickly, enabling MegaFon to launch the service within its desired time window.

MegaFon chose an existing hardware solution in the Dune HD line, which Dune HD modified by implementing a third-party middleware platform with specific features that were requested by MegaFon. The resulting device is branded MegaFon and carries a fully unique UI and service offering. MegaFon sells this solution directly to their customers, allowing MegaFon a great deal of control over promotions, bundles and subsidized pricing.
About Dune HD
Dune HD is a global manufacturing leader of full HD media players and connected boxes for consumers and operators. Over the past five years Dune HD has received more awards than any other company in the category for delivering the very best in universal media players. Dune HD products support the widest number of digital formats in use today, from Internet-based digital streaming and download, to disc-based formats such as 3D, Blu-ray and DVD, and support for IPTV, VOD, OTT, networked digital files and interactive services. Designed by world-class engineers, the company employes engineering teams in Russia and Ukraine, and is based in Taiwan with sales offices in the United States and distributors in 60 countries. Dune HD media players are enjoyed by more than half a million consumers in more than 60 countries. Dune HD's innovative product line consists of:
Dune HD Connect: The first 'thin STB' that is a full IPTV set-top and IP streaming video client device with built-in WiFi, in a small form factor similar to a USB flash drive. Connects directly to TV sets or displays via an integral Digital A/V output connector (MHL support is planned).
Dune HD Compact series: Dune HD TV-102 and TV-303D Hybrid-IP/IPTV set-top boxes.
Dune HD Premium series: A line of network media players with built-in IP streaming video capability and bays for internal hard disk drives. Dune HD also offers a built-in CD/DVD player.
Dune HD also offers accessory hardware for its products, including a keyboard, a USB TV receiver and USB WiFi receiver. Dune HD set-top box and media player products use the very best industry standard chip sets and support full 1080p HD video.
Figure 2: Dune HD TV-102 IP-Hybrid set-top box and Dune HD Connect IPTV/IP video receiver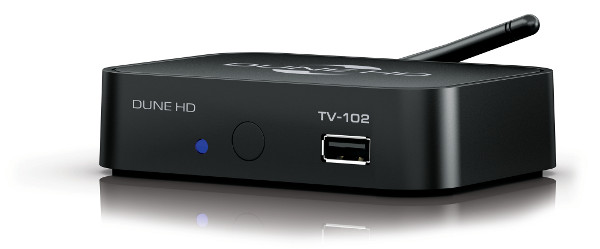 Unlike mass-market retail CPE solutions, Dune HD provides rapid time to market for operators seeking pure-IP, hybrid-IP and pay-TV CPE devices in customized or off-the-shelf configurations for IPTV, VOD, OTT and interactive online service applications. Dune HD can also arrange to sell and deliver pre- integrated versions of its products directly to the operators authorized resellers.
Dune HD offers an app distribution framework that can be branded by the operator, a set of APIs and a developer SDK for customization of the user experience that allows adaptation of its products for use with third-party software. Its devices accommodate Dune HD's own thin- or thick-client middleware and UI solutions as well as leading third-party TV middleware and security solutions.